Jim B. and Lillian F. Cooper Foundation
Giving Back to Midwest Bank Communities
Midwest Bank has a long-standing tradition of giving back to our communities. For five generations, the Cooper family has guided our organization with their philosophies of responding to the needs of our clients, supporting our employees and their families, and having a philanthropic mindset of making our communities better through sponsorships, donations, or volunteering.
The Jim B. and Lillian F. Cooper Foundation supports the communities that Midwest Bank serves through grants and scholarships. You can contact any of our Midwest Bank branch locations for more details or information.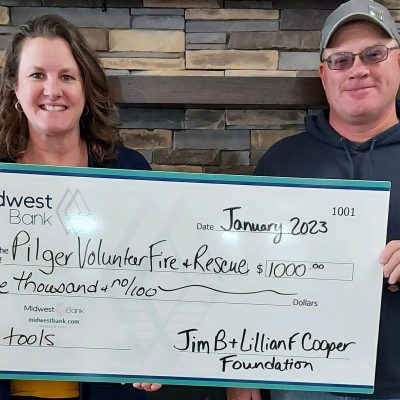 Making a Difference
In 1997, the Cooper family established the Jim B. and Lillian F. Cooper Foundation. Jim's daughter, Lu Schell, is the president of the foundation. Since its inception, the foundation has generously supported Health, Education, and Recreation in Midwest Bank's communities by awarding numerous grants to local organizations. Community grants and academic scholarship for students are available through the foundation. For additional details or to complete an application. Click on the link below.
Contact Us Today
Call your local branch or contact us online
Call your Branch
Find your branch.
ATM & Branch Locations
Contact us Online
Get in touch
Contact