Commercial Banking
Tailored solutions, expert advice, and a trusted partner for financial growth and success.
Experience excellence in commercial banking with us. Our comprehensive suite of services includes tailored lending solutions, cash management, expert financial guidance, and a commitment to your business's prosperity. Count on us for a reliable partner in your financial journey.
Commercial Banking Solutions from Midwest Bank
We understand how complex your business can be; we've been in business banking for over 70 years. Our team of experts is here to partner with you and provide you with helpful commercial banking services and insight. This way, you can stay focused on your bottom line while we focus on the products to help your business succeed.
We're here to grow your business
Commercial Real Estate
Empower your commercial ventures with our bank's real estate loans. Competitive rates, tailored terms, and expert guidance for securing your ideal property investment.
Commercial Real Estate Loans
Equipment Loans
Unlock growth with our bank's equipment loan. Competitive rates, flexible terms, and swift approvals empower your business to acquire essential assets, driving success.
Equipment Loans
Agricultural Loans
Fuel your farm's future with our bank's agricultural loans. Competitive rates, flexible terms, and specialized support help cultivate your success in agriculture.
Agricultural Loans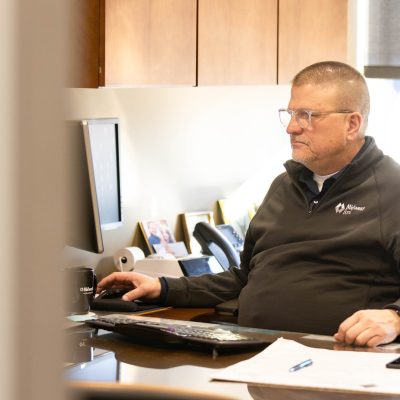 Business Loans & Lines of Credit
Running a business can be unpredictable. Let us help. Maybe you need a Business Loan or Line of Credit. Or perhaps you're interested in Small Business Administration Loans. Find out what we offer today!
Our Treasury Management Services
From electronic (ACH) payments to merchant card services, or sweep services and fraud management, our team of treasury management experts can help you manage your cash flow and finances more efficiently.
Local decisions
Our decision makers are right here in our branches, not states away like those big banks. Local decisions are important when it comes to your business and moving it forward.
Personalized service
We'll take the time to get to know you, your business, and your needs and goals. You're not just an account to us. You're someone we want to build a lasting relationship with for years to come.
Economic support
When you do business with a community bank, you're helping to support your community, too. We contribute back to our local communities and help support economic growth in our region.
Love of community
At the heart of it all, we're a community bank. You'll see our staff at local baseball games, shopping at the grocery store, or volunteering at the local food pantry. We love giving back to the communities that give so much to us.
Commercial Insurance
You've worked hard to build your business, we're here to help protect it and you. No matter what industry your business falls under, Midwest Bank Agency commercial insurance helps protect you and your future.
Frequently Asked Questions
What kind of business loans does Midwest Bank do?
Midwest Bank offers a range of business loans, including working capital loans, equipment financing, commercial real estate loans, SBA loans, and lines of credit, tailored to meet diverse business needs.
Do you work with the Small Business Administration (SBA)?
Yes, we do. Talk to one of our commercial loan officers today to find out more information about SBA loans.
Do you work with the USDA?
Yes, we do. Talk to one of our commercial loan officers today to find out more information about USDA loans.
What loans are eligible for SBA/USDA?
Financing opportunities can include the purchase of a small business, purchase of equipment/business assets, working capital lines of credit, or commercial real estate purchases. For more information on specific loan inquiries, reach out to any of our branches.
Business Checking
No matter the size of your business, we have the checking account to fit your business needs. Get the business account that works for you and helps you to keep your business running smoothly.
Learn more
Business Savings & CDs
Work with our experts to help you find the best way to put your money to work for your business. Earn competitive interest rates while keeping your money secure. You'll benefit from flexible terms and expert guidance for your savings and investment needs.
Learn more